Haaland: The unstoppable force in Europe
Erling Haaland had a truly crazy season. After 39 matches, the Norwegian striker scored 45 goals, alongside 6 assists. Among them, Haaland had 30 goals in 27 matches in the English Premier League, and 11 goals in 7 matches in the Champions League. In other matches, the 22-year-old striker scored 4 more goals.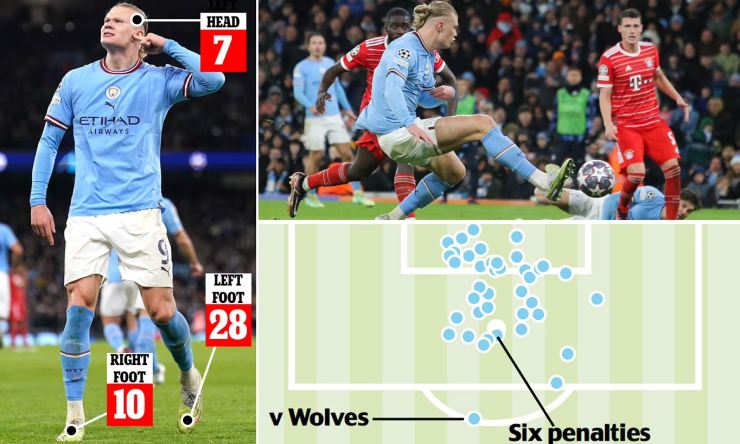 With 45 goals, Haaland has at least 14 more goals than any other player in the top 5 European leagues (England, France, Germany, Spain, and Italy). Every 21 touches, Man City's £52m signing provides a goal.
The best strikers in Europe are being left behind by Haaland. Kylian Mbappe has 31 goals for PSG, the closest to Haaland despite being 14 goals behind. Then comes Marcus Rashford with 28 goals, Robert Lewandowski with 27 goals, and Harry Kane with 25 goals.
86% of the "Erling-branded goal-scoring machine" goals in the opponent's penalty area are the first-time finishes. By comparison, the Premier League top scorer last season, Son Heung Min, achieved only 52% of his goals (23 goals) from the first-time finish.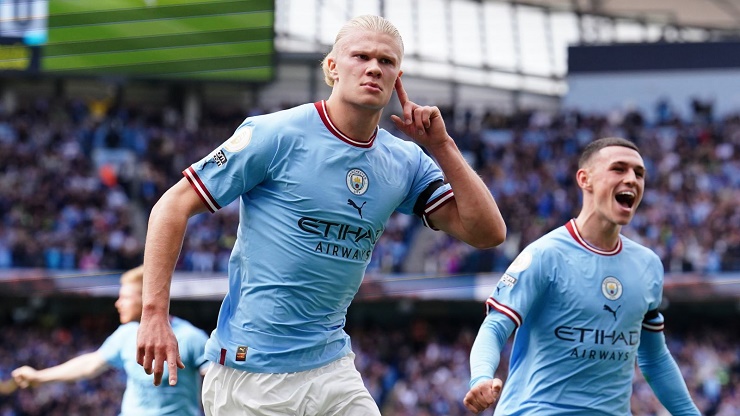 This figure indicates the strength in Haaland's off-the-ball movement. In addition, it also shows how Man City's attacking system has served the new Norwegian striker. His teammates often put Haaland in positions where he can shoot with one touch and score, instead of dribbling or receiving the ball in a position facing away from the opponent's goal.
In this regard, the role of midfielder Kevin De Bruyne cannot be overlooked. According to Opta, one-fifth of Haaland's goals came from De Bruyne's assists (9). Next are Phil Foden, Riyad Mahrez, Jack Grealish, and John Stones, with each providing 3 assists for Haaland's goals.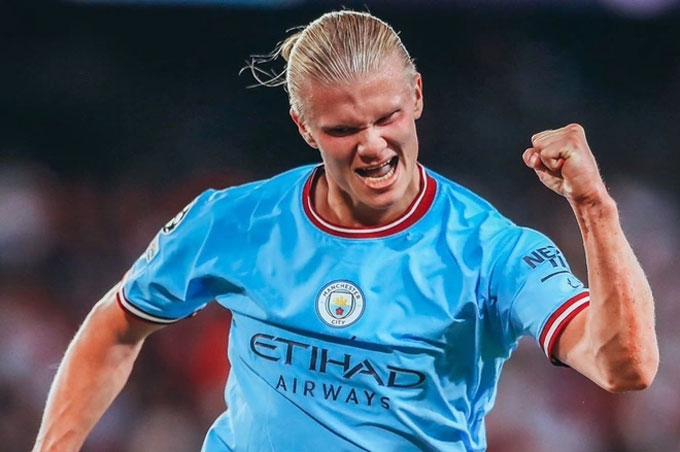 What milestones can he aim for?
By this point, Erling Haaland has broken a series of records. The former Dortmund striker became Man City's top scorer in a single season, surpassing the 38 goals of legend Tommy Johnson set in the 1928/29 season, which is 94 years ago!
Haaland also broke the record for the best goalscoring season by a Premier League player across all competitions. The previous record belonged to Mohamed Salah (2017/18) and Ruud Van Nistelrooy (2002/03) with 44 goals.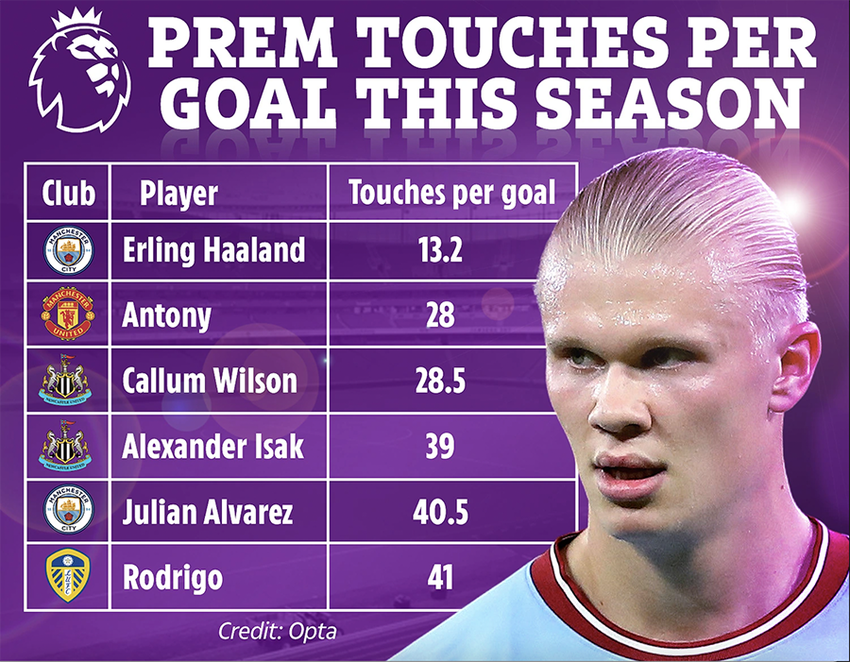 Haaland set the record for the fastest player to score 30 goals in Premier League history with 27 matches. Haaland surpassed Van Nistelrooy in another record: The player with the fastest 4 hat-tricks, only after 19 matches. Previously, the MU legend needed 65 matches.
In the final stretch of the season, what records can Erling Haaland aim for? First, Haaland needs 5 more goals…