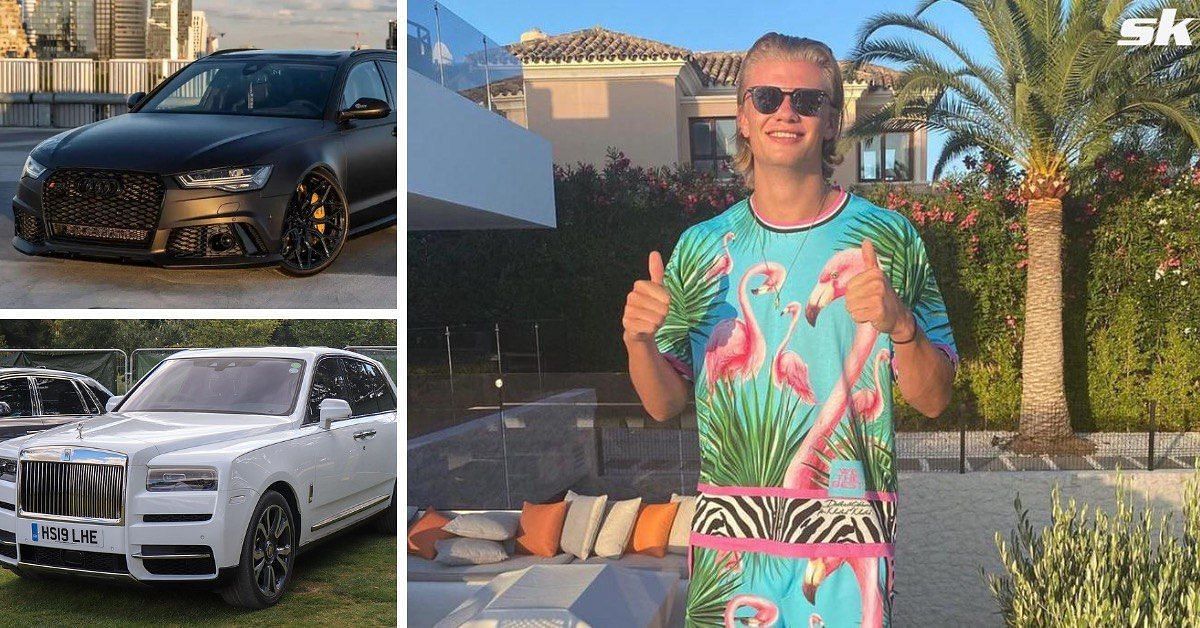 Manchester City star Erling Haaland has exquisite taste when it comes to cars. Only 22, the Norwegian has already acquired a fleet of luxury cars, including an Audi RS, a Mercedes-AMG GLE and a Rolls Royce.
As reported by English outlet The Sun, the Rolls Royce Cullinan is the most expensive car in Haaland's growing collection. Considered the epitome of class and comfort, Haaland's Cullinan cost him a whopping £300,000. The former Borussia Dortmund sharpshooter is often seen arriving at Manchester City training in his white Royce.
While Rolls Royce Cullinan is all about making a grand statement, the next car in Haaland's collection, the Audi RS 6 Avant, is about slick escapes. Haaland's Carbon Black Audi RS 6 is all about performance and carries a cool price tag of £120,000. In Germany, Haaland was often seen zipping around town in a red RS 6.
Range Rover Sport, which retails at £120,000, is a popular choice among professional footballers. The SUV is one of the most reliable machines on the market, capable of handling any terrain with ease. It has a Meridian sound system, massage seats and All-Wheel-Drive, ensuring its owner a drive as comfortable as possible.
Mercedes-AMG GLE, which has a sticker price of £90,000, is another notable car in Erling Haaland's garage. He was spotted giving his friend, Gio Reyna, a lift in his black Merc during his Dortmund days.
It will thus not be surprising to see Haaland, who is on a £375,000-a-week contract at Manchester City, add a few more luxurious cars to his collection in the coming years.
ROLLS ROYCE CULLINAN – £300k
At £300,000, this may be Haaland's most lavish vehicle yet.
This all-terrain SUV appears to be the goal machine's motor of choice for getting to training, and who can blame him?
The salubrious Cullinan gets its owner from A to B in supreme comfort and style.
And Haaland's white model is perfect for day to day use.
AUDI RS 6 AVANT – £120k
Haaland has long enjoyed riding in an Audi RS 6 Avant.
During his time in Germany, the City supremo was seen cruising around in a red model of the slick RS 6.
Since moving to England he appears to have upgraded to a Carbon Black performance model.
The stunning car features performance tyres as well as a tasteful interior design package that leaves its driver looking forward to their next trip.
RANGE ROVER SPORT – £120k
Which top footballer's car collection would be complete without a Range Rover?
The bulky, bruising motor is the Erling Haaland of cars – sizeable, reliable and something everybody wants to have.
This Range Rover Sport features digital LED headlights and a Meridian sound system to ensure travel in style.
While massage electric memory seats are perfect for allowing Haaland to relax between matches.
MERCEDES-AMG GLE COUPE – £90k
During his Dortmund days, Haaland was spotted driving a Mercedes-AMG GLE Coupe into training.
He even ran pal Gio Reyna into work in his shiny black Merc.
The comfortable leather interior would have had the duo feeling good before hitting the training pitch.
While its 22 inch alloy wheels will have made for a smooth ride.